Electronics & Communication Engineering
The ECE department was started in the year 2007 with an intake of 60 and it is increased to 120 in the year 2009 . The Department is headed by Dr R V Parimala 
She is having vast experience in Industry as well as Academics. She has presented several papers in International and National Conferences and journals.
The Department has well Qualified and Experienced faculties. The Department is actively involved in conducting Conferences and Workshops periodically .The Department of Electronics & Communication Engineering has specialized laboratories with a view to strengthen research & development, Equipped with state of the art Equipments & Instruments for experimentation in different subjects. These assist the students in exhaustive study & help them in learning various concepts through practical experience, which meet the standards specified by the AICTE & VTU Belagavi
The Department started M.Tech program in signal processing during the year 2013.
The Department always invites faculties from academia & Industries for guest lectures on a regular basis.
I cordially welcome all the students & their parents to the EMITERS family.
The Electronics & Communication Engineering is a most dynamically changing and ever evolving branch. Electronics is the foundation on which Information Technology and Computer Engineering has grown. All high speed communicaton networks and computers, mobiles, tablets, etc., work on the firmware & hardware designed by an electronics engineer
The vision of the department is 'To be recognized by the society at large as offering Value based Quality Education to groom the next generation entrepreneurs, leaders and researchers in the field of Electronics and Communication to meet the challenges at global level'.
This is achieved by imparting in depth theoretical knowledge during the lectures followed by hands-on experiments and designs in the state-of-the-art laboratories. The department is also offering value added courses on variety of domains which are essential to improvise the professional qualities of the budding engineers. All these are accomplished with the help and assistance of the qualified and experienced faculties of the department.
Today department is vibrant with more than 30 young and energetic staff (Teaching and Technical) and has 5 Ph.D. holders along with more than 10 faculty pursuing PhDs, while all faculties are M Tech holders.
I am confident that the staff members will be able to meet the vision of the department with the discipline and dedication by showing a high level of professional competence in their respective domains. Such professionalism along with teaching and training mindset of our faculty will help the students to attain their objective.
Wishing them all a bright future,
Dr. R V Parimala, PhD 
Professor and Head
Department of Electronics and Communication Engineering
MIT MYSORE, Belawadi ,srirangpatna (tq),Mandya-571477
COURSE DETAILS WITH SCOPE
Electronics and Communication engineering is one of the most popular engineering branches out there. Among the Indian engineering aspirants, this particular discipline has been a popular choice for quite some time. With the evolution of the computer age, electronics & communication has transformed into a field that is inevitable, required by almost all the industries. Electronics is now part of our everyday life, from the mobile phones to televisions, computers and even the high-end advanced satellites that are helping us to lead a smooth life. Even electronics and communication engineering is the major driving force for the present day Information Technology revolution. Electronics and Communication Engineering has also penetrated into other areas like healthcare, instrumentation, automation, remote sensing, signal processing etc. So students pursuing electronics and communication engineering have a lot of scope in varied industries.
Program Educational Objectives
Be able to have a successful career in dynamic industry that is global, multidisciplinary, and evolving.
Solve problems, design and innovate while they work individually or in teams with sense of professional ethics and social responsibility.
Communicate effectively and manage resources skillfully as members and leaders of the profession.
Program Specific Outcomes
Apply the basic concepts of engineering science into various areas of electronics and communication engineering to develop solutions as per specifications.
Solve complex electronics and communication engineering problems, using state of the art hardware and software tools, along with analytical skills to arrive at cost effective and efficient solutions.
Program Outcomes
PO1 Engineering Knowledge: Apply the knowledge of mathematics, science, engineering fundamentals, and an engineering specialization to the solution of complex engineering problems.
PO2 Problem Analysis: Identify, formulate, review research literature, and analyze complex engineering problems reaching substantiated conclusions using first principles of mathematics, natural sciences, and engineering sciences.
PO3 Design/Development of Solutions: Design solutions for complex engineering problems and design system components or processes that meet the specified needs with appropriate consideration for the public health and safety, and the cultural, societal, and environmental considerations.
PO4 Conduct Investigations of Complex Problems: Use research-based knowledge and research methods including design of experiments, analysis and interpretation of data, and synthesis of the information to provide valid conclusions.
PO5 Modern Tool Usage: Create, select, and apply appropriate techniques, resources, and modern engineering and IT tools including prediction and modeling to complex engineering activities with an understanding of the limitations.
PO6 The Engineer and Society: Apply reasoning informed by the contextual knowledge to assess societal, health, safety, legal and cultural issues and the consequent responsibilities relevant to the professional engineering practice.
PO7 Environment and Sustainability: Understand the impact of the professional engineering solutions in societal and environmental contexts, and demonstrate the knowledge of, and need for sustainable development.
PO8 Ethics: Apply ethical principles and commit to professional ethics and responsibilities and norms of the engineering practice.
PO9 Individual and Team Work: Function effectively as an individual, and as a member or leader in diverse teams, and in multidisciplinary settings.
PO10 Communication: Communicate effectively on complex engineering activities with the engineering community and with society at large, such as, being able to comprehend and write effective reports and design documentation, make effective presentations, and give and receive clear instructions.
PO11 Project Management and Finance: Demonstrate knowledge and understanding of the engineering and management principles and apply these to one's own work, as a member and leader in a team, to manage projects and in multidisciplinary environments.
PO12 Life-long Learning: Recognize the need for and have the preparation and ability to engage in independent and lifelong learning in the broadest context of technological change
To be recognized by the society at large as offering value based quality education to groom the next generation entrepreneurs, leaders and researchers in the field of electronics and communication to meet the challenges at the global level.
To groom the students with strong foundations of electronics and communication engineering and to facilitate them to pursue higher education and research.
To educate and prepare the students to be competent to face the challenges of the industry/society and/or to become successful entrepreneurs.
To provide ethical and value-based education by promoting activities addressing the societal needs.
Enable students to develop skills to solve complex technological problems of current times and also provide a framework for promoting collaborative and multidisciplinary activities.
Academic Year
Sanctioned Intake
Admitted Students
Regular
Lateral Entry
Regular
Lateral Entry
2015-16
120
25
103
31
2016-17
120
25
117
22
2017-18
120
25
106
23
2018-19
120
25
111
13
2019-20
120
12
100
24
2020-21
120
12
97
CHAPTERS
INAUGURATION OF IETE STUDENTS' FORUM
On 23rd march 2019, Department of electronics and communication engineering   branch inaugurated the IETE students' forum. On this occasion,  prof.sandesh NG and prof .sushanth KJ the coordinators for the IETE students forum, took the responsibility of  the event.
The formal inaugural was started at 11:00 am with the presence of Dr.Mahesh Rao professor and Head of ECE, Dr. Deepu .R Professor and Head of CSE, Dr.Raju.H.K professor and Head of MBA,  Dr.CRN retired professor ,SJCE mysore   and Dr.Bhagyalakshmi , professor ATME,mysore.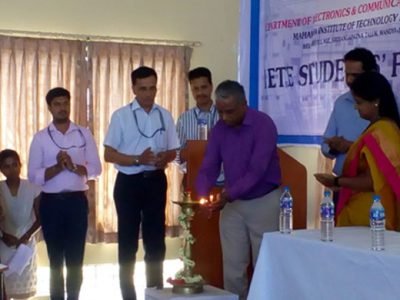 After the formal inaugural, special invitee from ISRO T.Subramanya Ganesh delivered a talk on navigation with Indian constellation highlighting the how GPS system works.
The students who were present on the inaugural had discussion with Subramanya Ganesh. The formal inaugural ended with Dr.Mahesh Rao , highlighting the objectives of IETE student forum and need for the GPS systems
RESEARCH AND PUBLICATIONS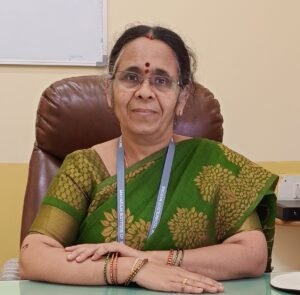 Dr R V Parimala
Professor and Head
DEPARTMENT OF ELECTRONICS AND COMMUNICATION ENGINEERING
MAHARAJA INSTITUTE OF TECHNOLOGY MYSORE
Belawadi ,srirangapatna Tq ,Mandya 571477
Karnataka ,INDIA
Email id:hod_ece@mitmysore.in
Copyright © 2021. All rights reserved.