Dr. B G Naresh Kumar, is an academician and an administrator, maintained the spirit of teaching since 38 years, molding many civil engineers.
His career as a teacher, administrator, structural engineer, researcher and mentor to many students is highly appreciated and acknowledged by many beneficiaries.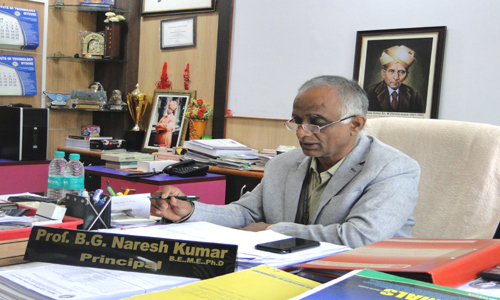 He is a graduate in civil Engineering and gold medalist from University of Mysore in 1981. Completed his Post graduation from University of Roorke (now IIT Roorke) in 1987 and PhD from University of Roorke in 1997. Dr. Naresh Kumar B G is the recipient of four gold medals and five Honors from University of Mysore for having obtained highest marks among Bachelors degree in Engineering. He has obtained State Government award in 1982.
He worked as professor of Civil engineering at PESCE Mandya and served as Head of the department for several years. During his tenure at PESCE he has designed various buildings in college and has given consultation to many building as structural engineer around Mysore and Mandya region. Multi-utility indoor stadium, swimming and cricket ground are some of the few to mention.
He worked as Advisor to AICTE, New Delhi for a period of two years and he streamlined the activities of Faculty Development Bureau. Because of his experience at AICTE New Delhi, MIT Mysore and MIT Thandvapura have benefited to maintain the standards as expected by AICTE norms.
He has guided 2 candidates successfully leading to PhD degree and 5 five more are in pipeline. He has Published more than 30 Research papers at National, International journals and conferences.Dr. Naresh Kumar B G Involved in the 9th International Conference on Wind Engineering held at New Delhi, in 1995.
His academic interest in civil engineering department has brought greater encouragement to other faculties of the department and also spread across all faculty members of MITM. His commitment to the profession and encouragement to students have brought MITM as an institute of excellence and leading towards greater heights.
Copyright © 2021. All rights reserved.